Welcome back to our Hidden Heroes Series. In the behavioral health community, the people who care for our loved ones are often unsung heroes. These clinicians often go above and beyond, yet are rarely recognized. They deserve to have their stories told. For Women's History Month, we'd like to celebrate the tremendous efforts of the incredible women in the behavioral health industry!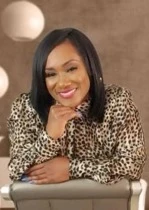 Meet Tinesha Disroe, Clinical Support at Banyan Treatment Centers. Working in behavioral health is both rewarding and incredibly challenging, and Tinesha shines at what she does. So, we wondered, how did she get into behavioral health and why? Here is what she had to say:
How did you get into the behavioral health industry?
I got into the Behavioral Health industry 5 years ago, after leaving my profession in Child Welfare. I wanted to complete my master's degree in counseling and was attracted to working consistently and directly with the mental health/substance abuse population.
What is your why for working in behavioral health?
My why is…
I am on an assignment. I'm fulfilling my purpose in life. I love working in the Behavioral Health industry. I love interacting with people and having the opportunity to assist people in life's challenging circumstances. I love to empower and inspire others to be all they are capable of being. It is self-fulfilling and rewarding knowing I had a positive impact on someone's life, whether it was for one day or lifelong. Each moment I have with a client, I feel it is my duty to help them reach their goals and show some improvement.
What was the moment you realized you love what you do?
I realized I love what I do after working for Banyan. I graduated with a BA in Administration of Justice, with a minor in Psychology. I always knew I wanted a career working with people. Not until I started working at Banyan, did I realize the intensity of my passion and commitment to assist, empower, guide, and teach during one's life's troubling experiences.
What are your wins or accomplishments that keep you motivated?
The accomplishment that keeps me motivated is knowing I am a survivor. I have been put on this earth for a reason. My personal accomplishments, struggles, and growth in life influence me to help others keep hope, have faith, and to trust life's processes. My wins, help others win!
What have you learned throughout your career that has impacted your life and how have you navigated to your personal self-care?
I have learned… "God has a plan for my life". Believing… "Everything happens for a reason and in good timing"; Trusting God and rehearsing these statements, has impacted my life. I navigate through self-care by: prioritizing myself and committing to happiness, empowering the good in me, and always remembering that self-care is the best care!
Thank you to our client, Banyan Treatment Centers for nominating Tinesha! We love to shine the spotlight on our hidden heroes. Do you have a Hidden Hero you want to highlight? Nominate them. You're all making a huge positive impact on people, saving their lives, and we appreciate everything you do.
We are highlighting our hidden heroes monthly! Have someone in mind? Please nominate them to be featured.