Behavioral health community's most respected electronic medical records (EMR) platform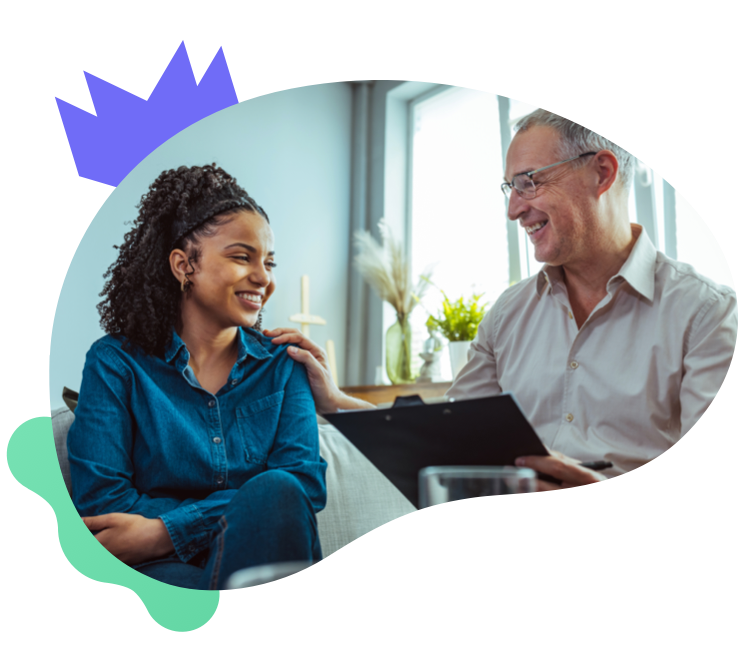 EMR

Kipu EMR simplifies workflows throughout the entire care journey on a unified platform that's easy to use. The entire team is supported and equipped to provide the right care to achieve the best possible patient outcomes.
Discover how Kipu EMR has positively supported over 2 million episodes of patient care.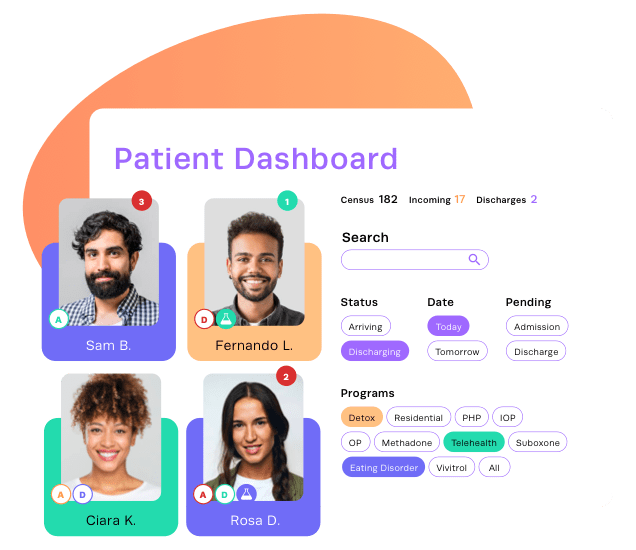 Get a pulse on your caseload and open items that require attention
The EMR's highly praised, easy-to-use design and time-saving features enable your organization to leverage technology to enhance patient care rather than creating a barrier to it.
Flagged Actions
Assign important patient attributes and actions quickly through color-coded flags to take the appropriate action.
Track Acknowledgements
Track staff acknowledgement to flags so the entire team is on the same page.
Easily Prioritize
Customize the dashboard to enable staff to easily prioritize what's important.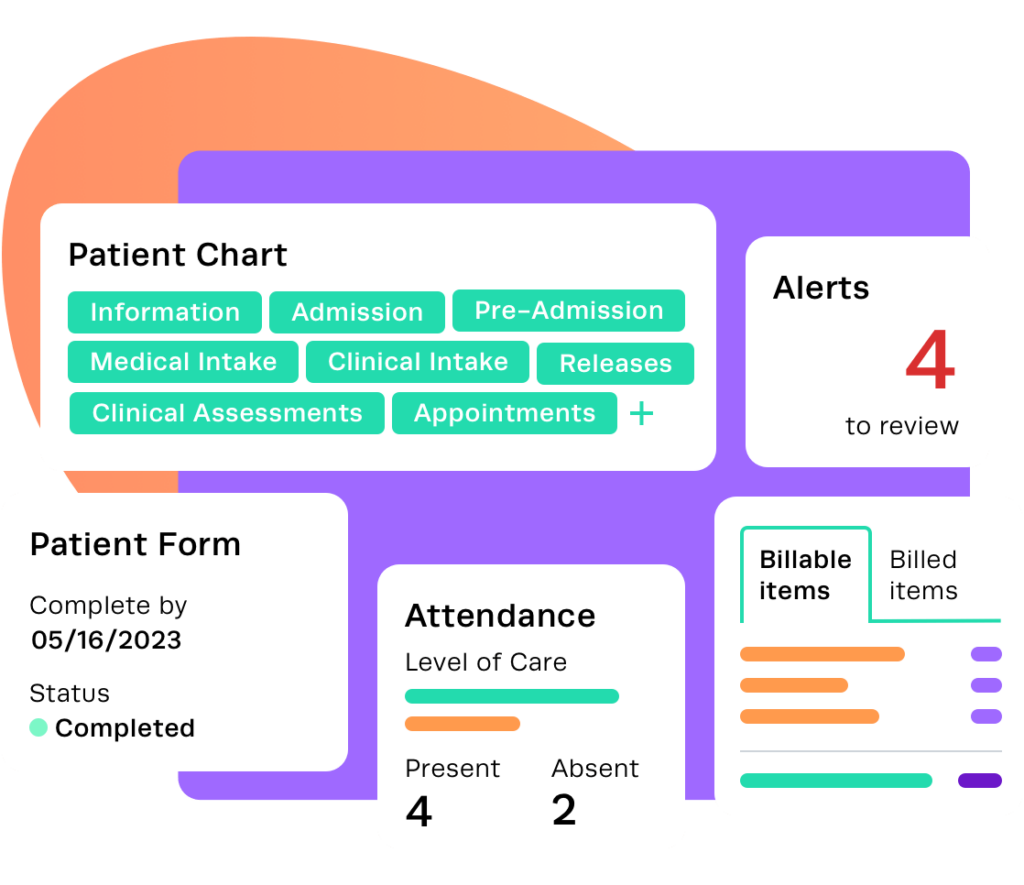 Documentation is a crucial aspect of patient care, but it shouldn't consume too much of clinicians' valuable time
With Kipu's EMR, you can achieve defensible and thorough documentation with ease. Our system offers a range of customization options and time-saving features, allowing clinicians to focus on delivering high-quality care without compromising on patient safety.
Save Time
Save time with customizable templates and the Quick Text feature to insert commonly used phrases and variable data fields—quickly resulting in personalized documentation.
Monitor vitals
Monitor patient vitals at prescribed intervals with auto-generated alerts for abnormal readings to adhere to the highest patient safety standards.
Boost compliance
Boost compliance by setting deadlines and track the completion of patient forms with the Chart Check feature.
Create claims
Capture and send billable claim information directly to Kipu RCM, powered by Avea, or other billing solutions to keep your revenue cycle operating smoothly.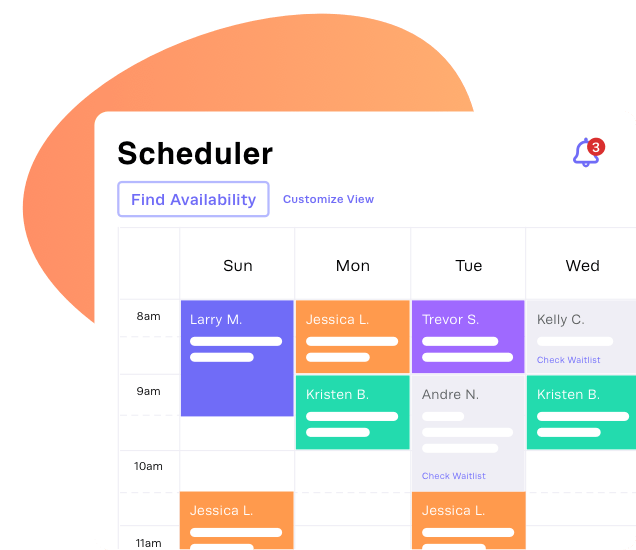 Streamline patient appointment and group session scheduling
The Scheduler boasts a highly configurable calendar that manages provider and location resources, with personalized schedules, appointment types, appointment-specific documentation, appointment overbook and waitlist, single- or multi-person appointments, and reporting to track productivity and make data-driven decisions about scheduling.
Automated reminders
Increase patient adherence to appointments through automated email or text message reminders which saves front office staff valuable time previously spent on reminder calls.
Included waitlist
Fill empty appointment slots left from cancellations and reschedules with the embedded patient waitlist feature.
Find availability
Identify an open slot quickly through the Find Availability function to make booking an appointment—or a series of recurring appointments—a breeze.
Customize Scheduler
Personalize the Scheduler to see exactly what's important to you through easy customization options.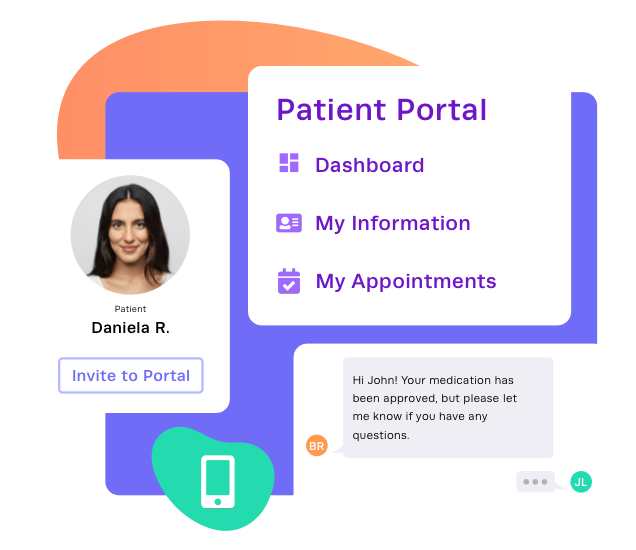 Enhance patient communication and engagement with our intuitive web and mobile patient solution
By encouraging patient, guardian, and guarantor involvement throughout the recovery journey, patients are more supported to achieve a better outcome.
Manage access
Invite a patient to the Portal directly from the patient's chart or manage access in one spot for all patients in the Portal Directory.
Secure messaging
Strengthen the bond between patients and the assigned care team by having secure two-way messaging at hand.
Empower patients
Empower patients in their recovery by giving them one simple easy-to-access spot to manage their information, appointments, documents, treatment plans, medications, and files.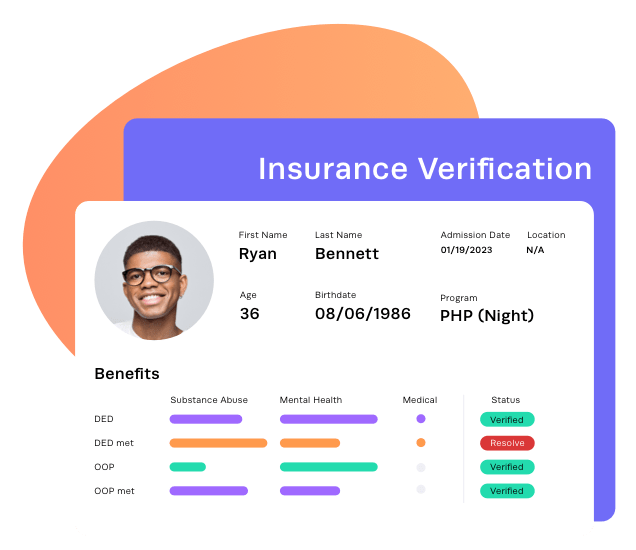 Reduce the risk of denied claims by easily verifying patient insurance
Reduce the risk of denied claims by easily verifying patient insurance information with our electronic verification of benefits tool, integrated directly into the patient chart and admissions workflow. Eligibility results are color-coded for easy visual identification, and we'll send you a notification if something doesn't match up. This tool streamlines the insurance verification process, ensuring that you have accurate information and reducing the risk of errors that could result in denied claims.
Instantly Verify
Understand patient's insurance eligibility instantly and monitor throughout the episode of care.
Resolve Errors
Resolve any insurance eligibility errors right from the time of admission.
Pinpoint Changes
Review the entire verification history for a patient to pinpoint changes.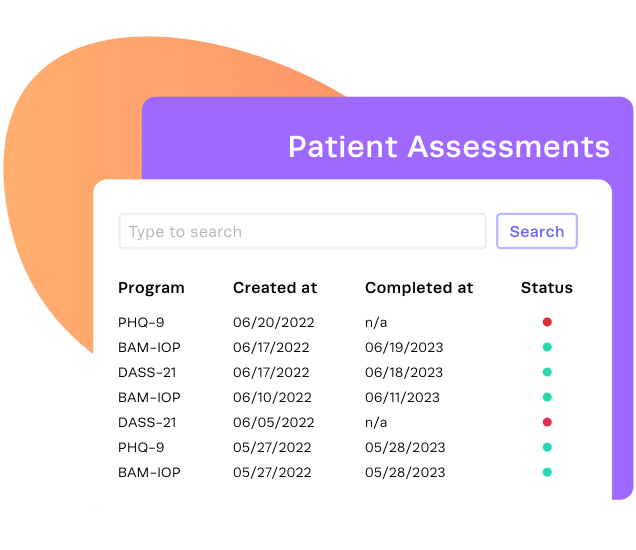 Objectively track and report on patient outcomes
Stay in compliance with Joint Commission requirements with our library of outcome measurements integrated right into the patient chart. Outcomes are directly reportable by patient, program, location, or level of care, enabling the identification of areas of improvement or success.
Robust outcome library
Access dozens of outcome assessments such BAM, GAD-7, PHQ-9, AED V4, CEST, DASS-21, RAS, and many more.
Automate outcomes
Control which assessment should be available by location and establish assessment behaviors to maximize efficiency with features like auto-enrollment and frequency.
Outcome reporting
Understand important stats like AMA (Discharge Against Medical Advice) rates, readmission rates, LOS (Length of Stay), or completion rates at-a-glance or easily drill into the details.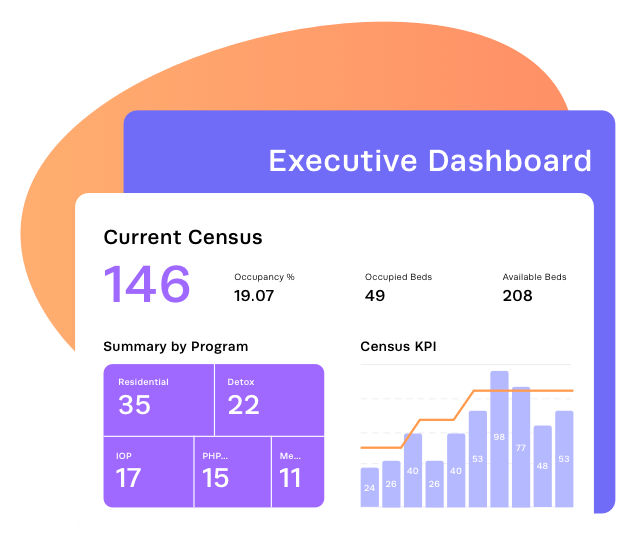 Unlock the power of your data
Be empowered to make the best decisions to grow your business with the right insights to drive action today and forecast tomorrow.
Actionable dashboards
Get a pulse on the organization quickly through in-depth and easy to understand dashboards with clear definitions around each point allowing you to confidently make data-based decisions.
Customize reports
Create customized reports easily such as those impacting key areas of your business including operations, finance, clinical, orders, and queues.
Forecast the future
Demystify the future and make projections using the forecasting feature.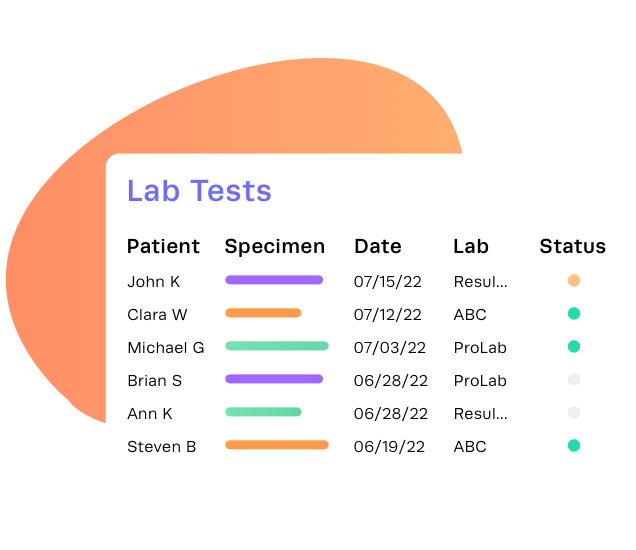 Streamline your entire lab testing process directly within the EMR
The Kipu Lab Interface fully complies with industry standards and delivers your lab provider the information needed to perform the necessary tests and submit claims for their services.
Requisition scheduler
Identify who is due for testing by using the requisition scheduler—either by frequency or at random.
Sign electronically
Sign off on orders and results electronically.
In-chart results
Review lab results within the patient's chart after receiving a notification from the lab provider.
Large lab network
Find labs you already work within our ever-growing list of hundreds of lab providers.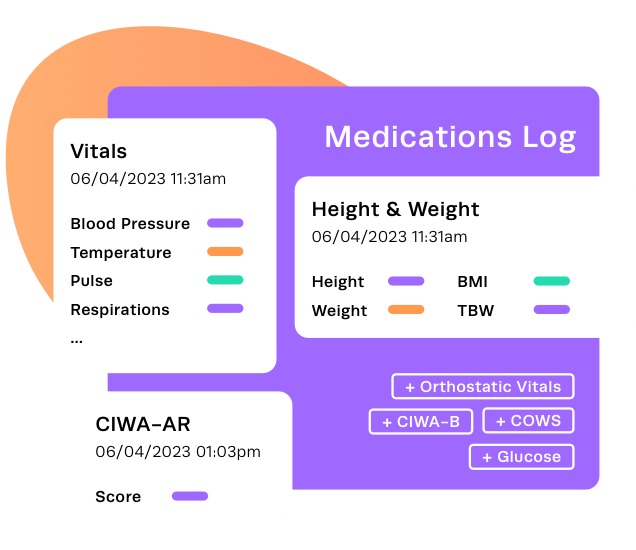 Effortlessly track and monitor medication administration for accurate and timely delivery, while meeting regulatory requirements
Kipu EMR simplifies the complex workflows involved in managing medications throughout the patient journey, from collecting any medications a patient is admitted with to prescribing medications electronically, and preventing the diversion of controlled substances, such as Suboxone®, Methadone, Sublocade®, and Subutex. Manage medication orders, administer medication, document meds brought in by patients, and control patient and facility medication inventories.
Meds brought in
Evaluate if medications brought in should be continued on admission, stored, or destroyed.
Electronically prescribe
Prescribe medications electronically to patients and order them from pharmacies using the integrated eRx feature.
Streamline MAT
Streamline Medication Assisted Treatment (MAT) workflows with our diversion control and call-back functionality, which includes the automation of randomly selecting patients and text messaging them with their scheduled appointment times.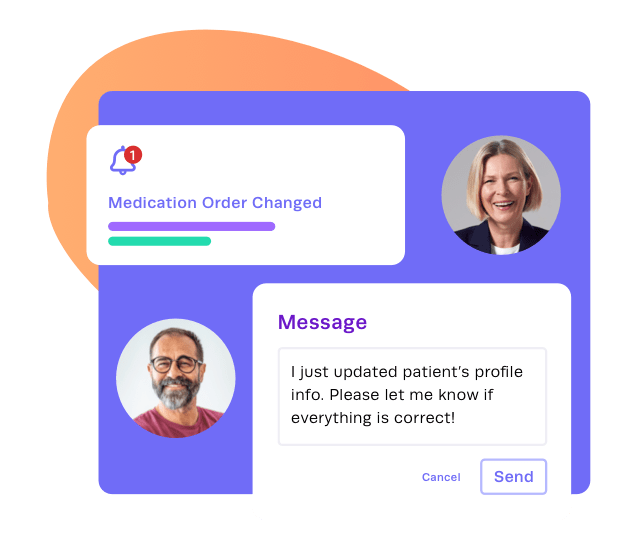 Communication among care team members is essential to coordinate the best patient care possible
With Kipu EMR, the care team can easily and securely communicate with each other. We'll even send instant notifications to you triggered by important patient events that occur within your facility to make sure you keep informed so you take appropriate actions.
Secure messaging
Send messages securely to one or more team members at a time.
Patient communications
Communicate patient-specific information directly from their chart.
Patient warnings
Get instant notifications about important in-app such as medication order change, new patient admitted, vital signs abnormal, or a variety of other triggers.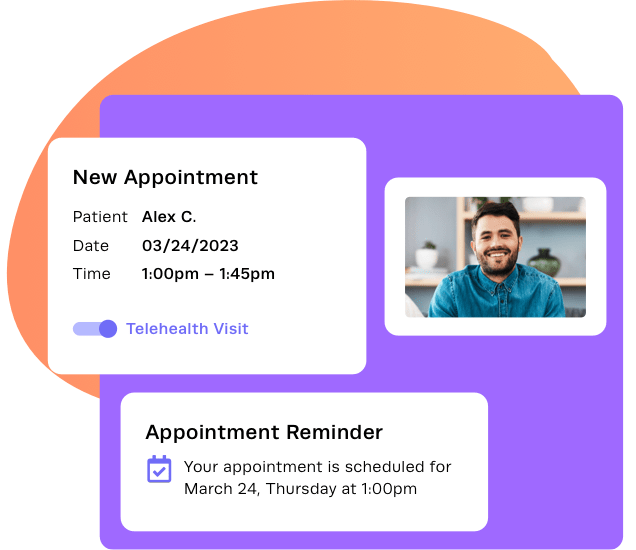 Telehealth has become an integral part of modern healthcare, and joining providers and patients together should be easy
Kipu EMR has integrated telehealth directly into the application, making it a breeze to schedule a telehealth appointment, automate reminders, and connect with a click of a button. There's no need to open multiple applications or copy and paste links. With a completely integrated and simple workflow, you can focus on providing patient care.
Automate invites
Automatically turn any appointment into a Telehealth session with a click, complete with an invitation and reminders to the patient.
HIPAA safe
Remain HIPAA-compliant and keep PHI (Protected Health Information) safe.
Recurring meetings
Schedule sessions for a single date and time or a recurring schedule and quickly join a session directly from the Scheduler.
Quick access
Increase patient access to telehealth by launching sessions directly through the Kipu Patient Portal.
Effortlessly manage your facility's occupancy
Maintain control of your facility's occupancy by easily understanding current patient assignments and availability.
View availability
View available rooms and beds by each location and specified criteria within your organization and quickly assign a patient, including upcoming ability through discharges.
Manage permissions
Control user permissions to allow or restrict who can manage occupancy.
CRM integration
Supercharge your admissions by using Kipu CRM to show current availability from Kipu EMR.
Kipu's end-to-end integrated platform provides expertise, insights, and analytics to move you forward.
Let's chat more about how you can keep ahead with Kipu.