The American Society of Addiction Medicine (ASAM) is preparing the 4th Edition of The ASAM Criteria which is currently slated for release in November 2023. The ASAM Criteria is the most widely adopted and extensive set of guidelines in the United States for determining the appropriate level of care, length of stay, and transitions for individuals with addiction and co-occurring conditions. These updates will work towards enhancing patient care and the addiction treatment industry. Here are the key changes: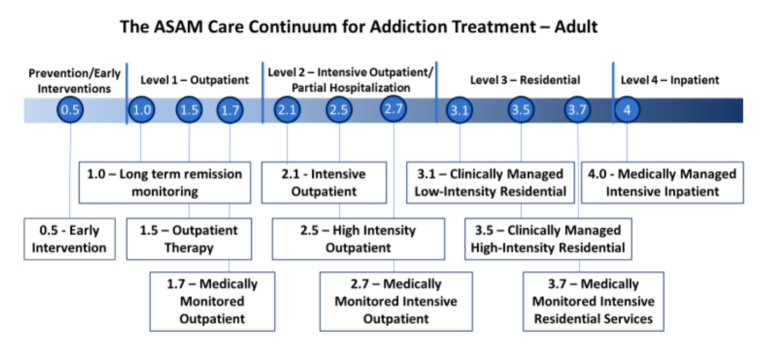 Expanding the Continuum of Care: The levels of care will be expanded to provide more detailed standards. This includes introducing Level 1.0 for long-term remission monitoring, Level 1.5 for outpatient therapy, and Level 1.7 for medically monitored outpatient care.
Better Integration of Biomedical Services: Biomedically enhanced treatment services will be integrated into levels 1.7, 2.7, and 3.7 to ensure comprehensive care and address patients' biomedical needs.
Clearer Guidelines for Withdrawal Management: Withdrawal management services will be reintegrated into the continuum of care to ensure ongoing treatment and reduce risks for patients.
Improving Continuity of Care: The proposed changes aim to eliminate steep drop-offs in the intensity of clinical services between levels, providing more consistent care throughout the treatment process.
Facilitating Transitions of Care: Standards will be aligned within different levels to support smoother transitions between programs and ensure comprehensive care for patients.
Simplified Standards and Enhanced Implementation Support: The 4th Edition will simplify the presentation of standards, provide standardized tools, and update language to reflect evolving terminology, improving clarity and implementation fidelity.
Addressing Evolving Priorities and Special Populations: The updates will address co-occurring mental health conditions, integration of addiction treatment into general healthcare, and specific populations such as justice-involved individuals, individuals with cognitive impairments, and adolescents.
Improving Communication and Medical Necessity: The 4th Edition will develop more standardized medical necessity criteria and documentation standards to facilitate communication between providers, payers, and policy-makers.
These updates are all to make sure that addiction treatment aligns with best practices and provides comprehensive care to our patients in need. ASAM is committed to improving patient outcomes and the overall quality of addiction treatment. We'll continue to keep a pulse the changes as they approach publication later this year. We are so grateful to see our industry evolving and making the changes to get there!