Welcome back to our Hidden Heroes series! This month, we shine a light on one such hidden hero, Pam Johnson, a dedicated Clinical Therapist at Hopequest Ministry Group. Hopequest Ministry Group, a renowned organization dedicated to helping individuals overcome addiction and mental health challenges, provides the perfect platform for Pam to showcase her skills and make a lasting impact on countless lives. Through her exceptional dedication and profound understanding of human nature, Pam Johnson stands as a true hidden hero, bringing healing and transformation to those who seek solace in their darkest moments.
"Pam has been working in residential treatment for nine years. She is an amazing therapist and has helped numerous clients and families. She is kind, strong and very funny. She plans on retiring and deserves recognition for her years of service in a challenging field. She has been a mentor to newer therapists and is a huge part of our team."

Mary Baker-Horton MA, LPC-A, Clinical Therapist at Hopequest Ministry Group.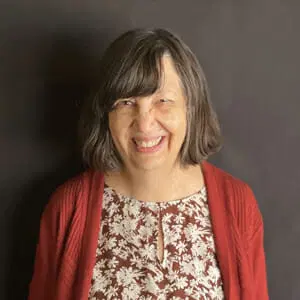 How did you get into the behavioral health industry?
I originally entered the behavioral health field, due to encountering some challenges with one of my children, who suffered from depression and some behavioral/addiction issues in his adolescence. I saw how broken the system was, and how much of a need there was for caring, compassionate people to work with children and families when they encountered similar challenges. I saw a huge gap in the systems in the school, courts, and mental health providers, and hoped to work in the field to help collaborate and bridge that gap.
What is your WHY for working in behavioral health?
I have always had a great desire to make a difference in others' lives, and have seen firsthand, how much change can occur in individuals, families, and systems through education and therapy.
What was the moment you realized you love what you do?
I don't know that I could just identify one moment, but can think of several that remind me why I do this and inspire me to love what I do. Mainly those moments when I see a client reunited with their family, or have those moments when things start to make sense for them, and they start applying what they have learned to their relationships.
What are your wins or accomplishments that keep you motivated?
I recently saw three of my former clients who were struggling with deep depression, and/or addiction issues, and who were all single at the time they were seeing me, get married and seem to have their own "happy endings". Other moments are when I see a client relating to their spouse or their children differently, and I can see they are breaking the cycle of family dysfunction that had impacted them. I keep a file of encouraging letters, Christmas cards, and my favorite – pictures of clients with their families celebrating.
What have you learned throughout your career that has impacted your personal life and how you navigate through your personal self-care?
The most important thing I have learned is about having healthy boundaries and practicing self-care for myself. I have learned to say "no" when I need to, and only give my "best yes" to the activities/obligations that I am best suited for, and not overload myself.
It's too easy in this field, and for people like me who spend most of their time caring for others to get tired, frustrated, and burnt out. I have learned I need to practice what I teach, and "put on my own oxygen mask, before helping someone else". Especially in 2020, I focused on getting outside, taking walks, tending to my own mental health and physical health, and watching my diet, not to lose weight, but to stay healthy.
We are highlighting our hidden heroes monthly! Do you have someone in mind?
Please nominate them to be featured.