In this month's Behavioral Health Hidden Hero feature, we are thrilled to shine a bright spotlight on Erica Zambon, the exceptional Mental Health Clinical Director at Banyan Treatment Centers. Erica's passion and unwavering commitment have not only transformed her department but have also inspired those around her. Colleague Michelle Sheard describes her as a true hero. We'll explore Erica's journey, her profound love for behavioral health, and the moments that keep her motivated and energized. Join us in celebrating the uplifting career of Erica Zambon, a beacon of hope and positivity in the field of behavioral health.
"Erica is just amazing at her job. She makes working in this field look effortless. She carries that department on her back. She has come a long way in that position and with little help most of the time she keeps that department thriving, I work with her as a mental health case manager and the amount of support she showed during my time in that department went way beyond what anything I expected. She never feels it's not her job to assist in any department. She never does not reach out to help and teach you methods on how to do something. She is a true fighter. During the pandemic, she was the glue that kept our mental health department together…To work under here is a true treasure when it comes to working in this industry. A true hero to me."

Michelle Sheard, Mental Health Case Manager at Banyan Treatment Centers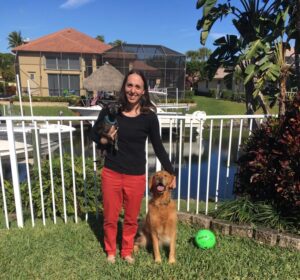 How did you get into the behavioral health industry?
I landed in behavioral health after my undergrad, I wasn't fully sure what I wanted to do in the field but very quickly I fell in love with the clinical aspects and pursued further education. I have always had a passion for helping people and behavioral health seemed like the perfect fit to do that.
What is your WHY for working in behavioral health?
My WHY is continuing to know that every day I show up there are big/small victories (in patients, therapists I supervise, and the agency I work for), it keeps me coming back knowing that progress will be made in some way.
What was the moment you realized you love what you do?
I fell in love with what I do a long time ago now  There have been several moments in my career where I have gone, "This is why I do this". Most recently some that stand out are watching that challenging client have those "aha" moments and start to connect all the things you've been working on and in turn, we start to take steps forward, or the moments where I get to mentor the therapists I supervise and watch the excitement as they get to have those same moments with clients.
What are your wins or accomplishments that keep you motivated?
What keeps me most motivated is knowing that I get to show up to an agency that continues to change the lives of all who walk through our door, and I love that I am in a position to be able to share my passion, excitement, and victories with the next wave of folks entering the field.
What have you learned throughout your career that has impacted your personal life and how you navigate through your personal self-care?
The most important thing is boundaries and remaining consistent with self-care so that I can continue to remain fully present in all aspects of my life. Work/Life Balance is crucial.
We love getting to know the heroes in our industry and our readers do too. We are highlighting our hidden heroes monthly! Do you have someone in mind? Please nominate them to be featured.